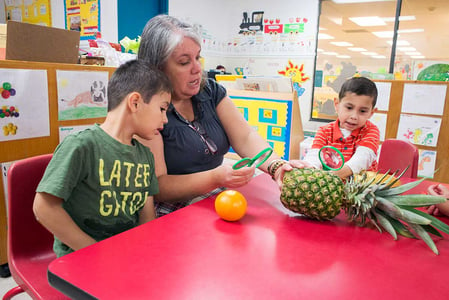 Summer fun is soon to make its annual retreat, and yes that means it's back-to-school time! To help you dodge the back-to-school scramble and make your transition smoother, here are some handy tips on polishing your interaction skills, reflecting on past experiences, setting clear goals, and making the most of those precious pre-service and in-service days.
Strengthening Your Interactions
Interactions aren't just the heart of teaching; they're the key to successful learning and development. Make sure your interaction skills are in top shape by continually engaging in your own professional development activities.
Listening to the Teaching with CLASS® podcast can provide some practical tips and strategies that you can start applying immediately! Having a handy Pre-K–3rd Interactions Dimensions Guide filled with examples of quality interactions is also great for a quick refresh during your lunch break. Remember, practice is key. Each time you focus on refining your educator-child interaction skills, you're enhancing your teaching craft.
Setting Your Course for Success
Before you jump headfirst into the new school year, take a quiet moment to look back. Reflect on the previous school year and think about 2-3 areas you want to improve, as well as where you truly shined. Use these insights as a starting point for your goal-setting. This reflection will help pave the way for a clear vision of your professional growth this coming school year.
And, as you start to plan your classroom layout, consider how the physical environment can play a role in fostering quality interactions.
Making the Most of PD Days
Pre-service and in-service days are key to a successful school year and your growth! Use this time to focus on areas you've identified for growth. These days are an incredible chance to deepen your skills, collaborate with fellow educators, and strategize for the year ahead. Make sure to ask those burning questions and take notes throughout!
Each interaction, no matter how small, can make a big impact on a child's learning journey. As we gear up for the upcoming school year, let's commit to creating classrooms that flourish with meaningful interactions!
Discover More Resources and Tools!