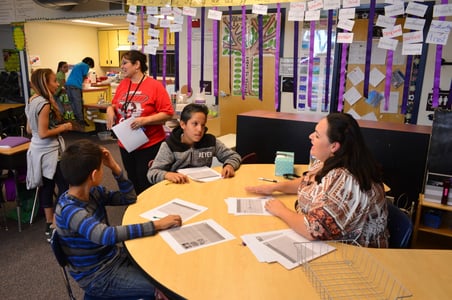 Your CLASS® observation data serves as a powerful instrument, guiding you to understand the teaching quality in your program, and mastering how to leverage your data for improvement can significantly boost your decision making process and promote a culture of growth. Use these practical tips to help ensure a successful start to the new school year.
Embrace the Data
Data can be overwhelming if you don't know where to start. This school year, make a commitment to embrace the data, and harness its power to drive continuous quality improvement. To make data more usable, friendly, and not as overwhelming, consider the following:
Tip 1: Streamline Your Process: Assess your current practices for reviewing your data. What is working and what is not? Is trying to understand your data eating chunks of your calendar time? Leverage the power of myTeachstone to rapidly generate insightful reports. This practical tool saves you from the time-consuming task of manual data analysis, allowing you to focus on strategic planning and preparation for the school year.
Tip 2: Schedule Regular Data Reviews: Make a calendar commitment to revisit your CLASS data at regular intervals throughout the year. Continually assessing the effectiveness of your strategies and making data-informed adjustments will ensure your approach remains responsive, adaptable, and ultimately successful.
With these tips in mind, you'll be well-prepared to unlock the full potential of your data, setting the stage for a productive and rewarding new school year.
Promote a culture of growth
CLASS Data is not only a catalyst for measuring educator-child interactions, but can be instrumental in nurturing your educator's growth. Here's how you can use your data to make professional development programs more impactful:
Tip 1: Spot the Opportunities for Learning: Your CLASS observation data can serve as a roadmap to growth. Use it to identify areas where your educators may need additional training or resources. The Automated Feedback Report in myTeachstone makes this as easy as a click of the button. This report will look at CLASS Scores and generate a comprehensive report that through strengths-based language, provides clear feedback and identifies strengths and opportunities for growth. And, when this information is then paired with myTeachstone Learning Resources, targeted online professional development that aligns with these needs, educators have the insight and tools they need to enhance their classroom interactions.
Tip 2: Create Meaningful In-Service Days: Now is the time to start thinking about future in-service or even pre-service days for your teachers and the goals you hope to achieve. Consider how you plan to block off time for learning and managing the logistics of successful professional development days. One way to ease the complicated logistics is through Custom Events by Teachstone. These short 45-60 minute, online facilitated sessions can be tailored to address specific classroom interaction goals like behavior management or introducing new educators to CLASS. Not to mention teachers walk away with practical strategies that they can start implementing immediately!
Remember, your CLASS Data is more than just numbers—it's a powerful ally in fostering a culture of growth and excellence among your teachers.
As you prepare to return to the classroom, remember: data is the unfolding story to improve childhood outcomes through the power of meaningful interactions in the classroom!
Discover More Ways to Leverage Your CLASS Data