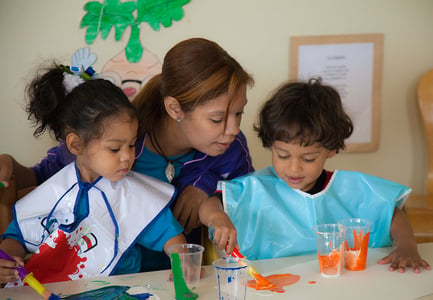 An educator's job is to teach, inspire, and support children's social, emotional, and cognitive growth. But, to do this effectively, educators must continue their own growth and development. One way to invest in your own education is by earning your Child Development Associate® (CDA) Credential™. Here's everything you need to know about the CDA and how to start down the pathway to earning it.
What is a CDA?
The CDA is a well-known credential for early childhood educators. Teachstone proudly partners with the Council for Professional Recognition, the official organization that recognizes and grants the CDA to educators. The CDA is fitting for anyone who works with children birth to age 5 in all types of early care and education programs – Head Start, pre-K, infant and toddler programs, family child care, and home visitor programs.
The Council for Professional Recognition describes the CDA as "based on a core set of competency standards that guide early childhood professionals toward becoming qualified educators of young children."
To officially receive your CDA, you must pass a knowledge exam and complete a verification visit from a CDA Professional Development (PD) Specialist™. The Specialist will review a candidate's professional portfolio and talk with them to ensure that they are ready.
The Benefits of Having Your CDA
Earning your CDA may sound daunting, but it's incredibly valuable for anyone working with young children. And, with the right CDA preparation program, the process can be made easier and enjoyable.
Each of the CDA's core competencies is designed to align with the many aspects of working in the early care and education profession:
Establish and maintain a safe, healthy learning environment
Advance physical and intellectual competence
Support social and emotional development and to provide positive guidance
Establish positive and productive relationships with families
Ensure a well-run, purposeful program that is responsive to participant needs
Maintain a commitment to professionalism
Observe and record children's behavior
Understand the principles of children's development and learning
After diving into each of those competencies, you'll have a detailed, well-rounded understanding of how to support infants, toddlers, and preschoolers. And, you'll feel empowered to partner with families and caregivers to ensure a positive and consistent experience for children across school and home. Plus, the CDA gives you a holistic understanding of early childhood programs from the classroom—and beyond.
Some CDA prep programs (see below) also allow you to receive college credit while working on the requirements. It's a double benefit: you'll get to learn about your careers while earning credits that build toward college-degree programs. For example, Teachstone has an option to seamlessly transfer nine college credits into Waldorf's Early Childhood Associate Program.
Finally, once you have earned a CDA, you will become eligible for more careers that require it, which include: lead teacher, mental health counselor, professional development specialist, and home visitor. Not only will more careers open for you, but your expertise will be recognized because of your newly earned credential. In fact, some states and programs offer a pay increase for educators who hold their CDA.
How to Get a CDA
So, where do you get started? How can you build your portfolio and feel ready to pass the exam? It may feel overwhelming, but you can get started sooner than you think. In fact, some states and programs even offer scholarships to get you on the path as soon as possible.
To receive your CDA, you must have a high school diploma or GED (earned before taking the final exam), have spent 480 hours working in an early childhood education setting, and 120 hours of professional development related to early education.
Once you meet the requirements, you can officially apply for the CDA through the Council of Professional Recognition. From there, you will get set up with a certification visit and exam date.
CDA prep programs like the CDA with CLASS® will walk you through the process and prepare you all on your own schedule. CDA with CLASS offers the choice of learning experience that best meets your preferred style of learning.
The On-Demand CDA with CLASS experience allows participants to access coursework anytime, anywhere, and work at their own pace.
The Facilitated CDA with CLASS offerings connects participants with experienced educators to receive specific guidance and feedback across a 24-week paced program. Participants can select the cohort enrollment date that works best for their schedule.
The CDA with CLASS is unique in that in addition to the early childhood education competencies, you'll learn about the power of meaningful interactions. As one participant put it, "I have learned many new ways of how to better my interactions with the children and their families in my class by learning the CLASS tools. It has made teaching more fun, and I can tell it is positively affecting the children in the class."
Throughout all of the CDA with CLASS programs, you'll enjoy engaging coursework that includes videos of real classrooms, interactive learning modules, and additional resources and content. Each program also provides support to help build the required portfolio as you complete the coursework. And, in the facilitated programs, you'll not only receive guidance from experienced facilitators but will share and engage with other participants through rich discussions.
Take it from this participant: "The most important thing I love in this course is that you are breaking down building up our portfolio, which make it so much easier."
Want to learn more about the CDA with CLASS? You can watch an on-demand demo that will show you exactly what the courses look like, answer your questions, and break down the specific costs involved.